From New York Times Bestseller Mimi Jean Pamfiloff comes an Enemies-to-Lovers, Romantic Comedy.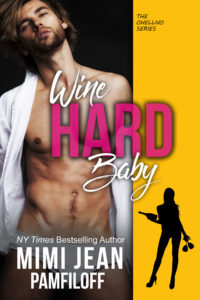 CAUTION: CONTAINS HOT COWBOY. Do not mix with wine. Avoid watching him do shirtless labor on hot days.
SIDE EFFECTS MAY INCLUDE: Feeling of extreme temptation, excessive drooling over his abs, elevated heart rate, and loss of coherent thoughts when in his presence.
My name is Camila Clark. And that sexy cowboy right there? The one with the devilish smile, twinkling brown eyes, and tattoos on his muscular arms? He's Jed, the guy I turned down flat back in Texas. He just showed up here in Oregon at the winery where I work. The question is why? Not that it really matters. I have my reasons for staying away from all that manly temptation. Reasons he can't possibly understand but seems determined to punish me for. But the more I fight him, the more I learn about this mysterious, hot-as-hell cowboy. I just don't know how much longer I can keep pretending to hate him. The problem is, I'm technically engaged to a guy I've never met.
BUY LINKS
About the Author
MIMI JEAN PAMFILOFF is a New York Times bestselling author who's sold over one million books around the world. Although she obtained her MBA and worked for more than fifteen years in the corporate world, she believes that it's never too late to come out of the romance closet and follow your dreams. Mimi lives with her Latin lover hubby, two pirates-in-training (their boys), and their three spunky dragons (really, just very tiny dogs with big attitudes) Snowy, Mini, and Mack, in the vampire-unfriendly state of Arizona. She hopes to make you laugh when you need it most and continues to pray daily that leather pants will make a big comeback for men.
Sign up for Mimi's mailing list for giveaways and new release news!
Website
|
Facebook
|
Twitter
| Goodreads | Newsletter
My Review 5 STARS
**My thanks to the author for providing me with a free copy for an honest review**
In this book we have Giselles friend
Camilla who has been brought up in a very loving but strict background and Jed who we have also seen before.
This can be read as a stand alone book as most of it happens at a wine ranch, it is only the beginning that might get lost in translation if you have not read the previous book.
Cami is a cool character, has a mouth like a sailor when she is nervous and cannot help herself with the things that come out of her mouth at Jed, usually something that she ends up wishing that she can take back.
Jed is a laid back character, but he kinda brings he poor past behind him. It is only after something that Camilla says to him that has him rethinking how he has behaving and changes what he does and wants.
I really enjoyed this book and really hope that there is another book in the series.